Mission Possible: A Memorable Family Thanksgiving
When I think about Thanksgiving, I have conflicting emotions.
On one hand there are the warm feelings about family getting together cooking tons of great food, hanging around the fireplace, and watching movies movies or the big Thanksgiving football games. In addition, growing up, Thanksgiving always meant traveling (normally camping). We'd pack up as a family and head to some campground and enjoy the crisp air and nature.
On the other side, there is the stress of Thanksgiving. Hosting all of the family. Thinking about all of the logistics around cooking. Dealing with all of the unique food allergies or preferences that family members have. (I remember when I was a vegetarian my mom being completely stressed out about how to cook a Thanksgiving meal I'd enjoy). Ensuring that everyone has something to keep them busy and happy (goodness only knows how a bored child or teen can ruin the day). And then having to worry about cleaning everything up after.
The question is how can you have all those positive experiences and minimize the stress? If you are planning a family trip up to the Manchester/Stratton area, here are four tips to make your family vacation a dream.
FOR THE TURKEY….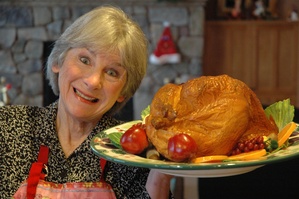 (Fun Fact: This is Pam Young, author, speaker and our bonus mom. If you want to to see funny ideas for a memorable Thanksgiving, click here for this video. )
The Vermont Butcher Shop sources its turkeys from Stonewood Farm a local, family owned and operated farm, who "proudly offers humane Care & handling to our turkeys." Order 4-5 weeks ahead and pick it up fresh from the Manchester location. When you are there, you can pick up breakfast sausage for stuffing and homemade gravy. When it comes time for cooking, try this Buttery (Vermont) Maple Glazed Recipe.
4764 Main St, Manchester Center, VT 05255
DESSERTS TO MAKE EVERYONE HAPPY
While most Thanksgiving memories are about home cooked meals, you don't have to cook everything from scratch. One way to treat you and your guests is to buy delicious desserts.
Mother Myrick's Confectionery offers seasonal Thanksgiving pies. The tip is that Mother Myrick's pies are not usually featured on their website but are in the retail store. When planning your Thanksgiving in Vermont, call ahead to order your pumpkin cheesecake with gingersnap crust (featured in the photo) or one of their traditional offerings such as:
Caramel apple,
Pecan
Pumpkin
Raspberry peach,
Cherry raspberry
Apple blackberry
In addition to pies, we recommend picking up their signature Butternut Crunch Toffee. If you are from Vermont, you probably recognize these: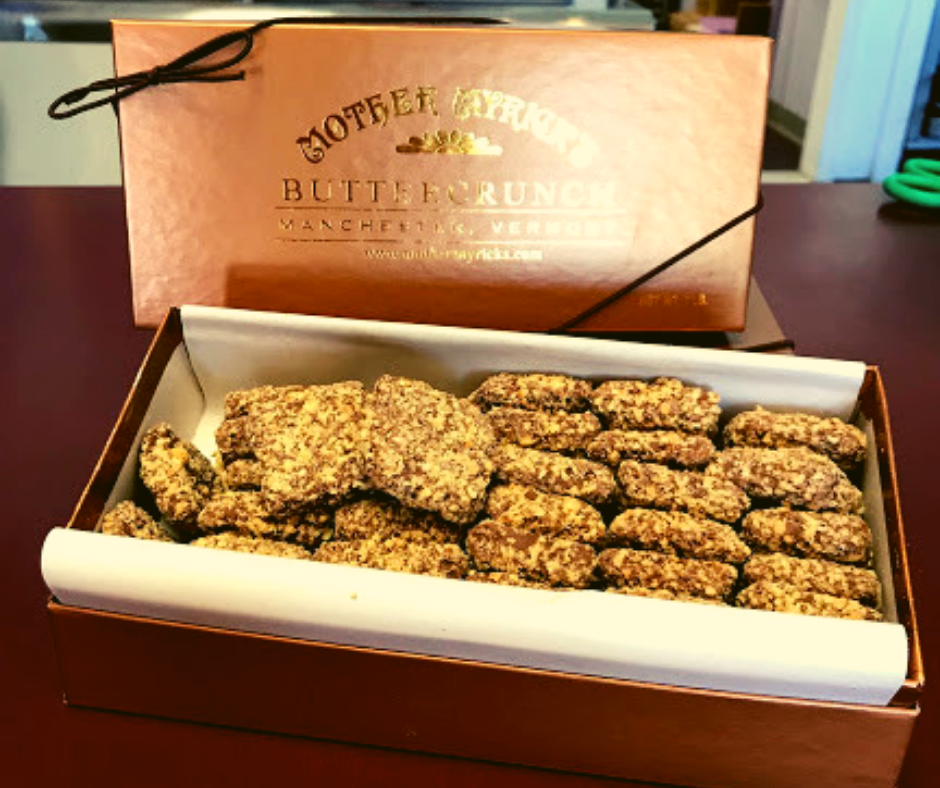 One of the real blessings is that Mother Myrick's also has a selection of gluten free desserts. That gluten intolerant family member will love that you thought of them and won't feel left out as everyone else digs into dessert.
Mother Myrick's is right down the street from the Vermont Butcher Shop. So pick them up on one run.
To order your deserts for pick up, call 802-362-1560.
Then pick up at Mother Myrick's 4367 Main Street Manchester Center, VT 05255
SIMPLIFY THE PACKING LIST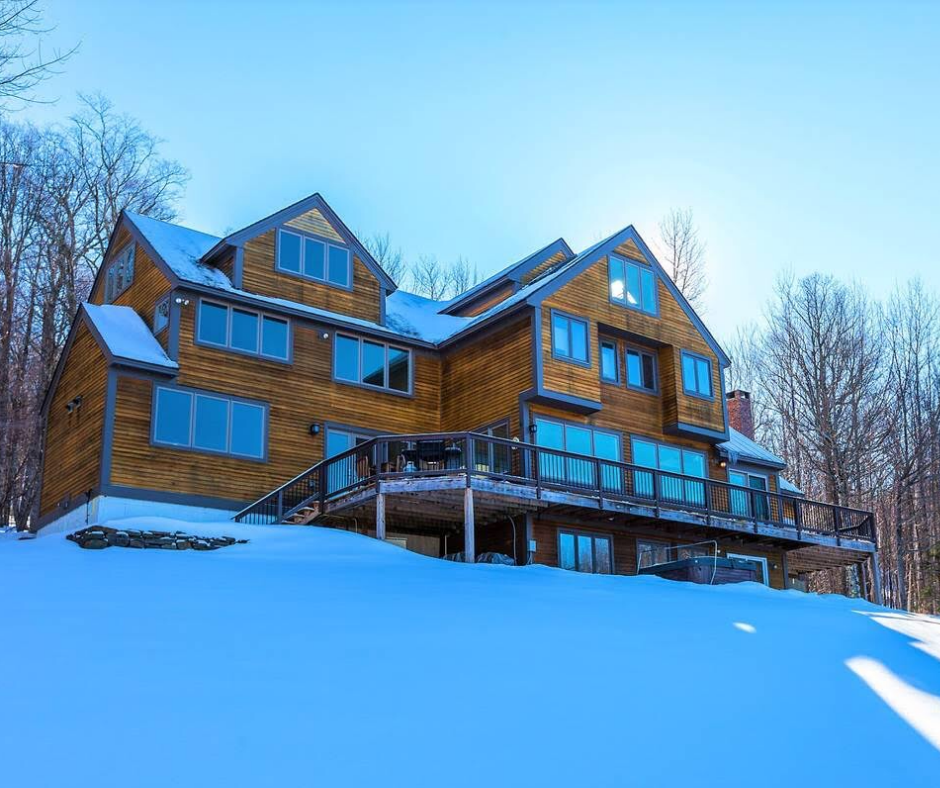 Whispering Pines Lodge on Stratton Mountain makes a multi-generational gatherings memorable, interactive and simple, even for the largest of families. With room to sleep 20 plus over four floors, thoughtful touches throughout our luxury lodge are intended to make relaxing part of your vacation.
No Need To Pack
Games: we have board games, puzzles and even a library of books for all ages!
Toiletries:

including shampoo, conditioner, soap, laundry supplies, toothbrushes just in case and mouthwash.

Phone Chargers: A ridiculously large number of phone chargers throughout the house

We even have clocks, ear plugs and eye masks to help get a stress free sleep

Screens: Movie projector room with a popcorn machine for that classic holiday movie. Does your family have a holiday movie tradition? Elf, Christmas Vacation or Frozen? Email us so can to make sure we have it in our collection for you.
Cooking Supplies: If you book this Thanksgiving, we will make sure there is a roasting pan, baster and serving platter to have on hand! Our kitchen was created to feed the masses! There will be at least one person delighted at the fact that we have TWO dishwashers -- room enough for all teens be part of clean up!
Maybe a sentence about the Tesla charger / link to blog.

What To Bring
For a full list of amenities, room and bed count, head over here.
TREAT YOURSELF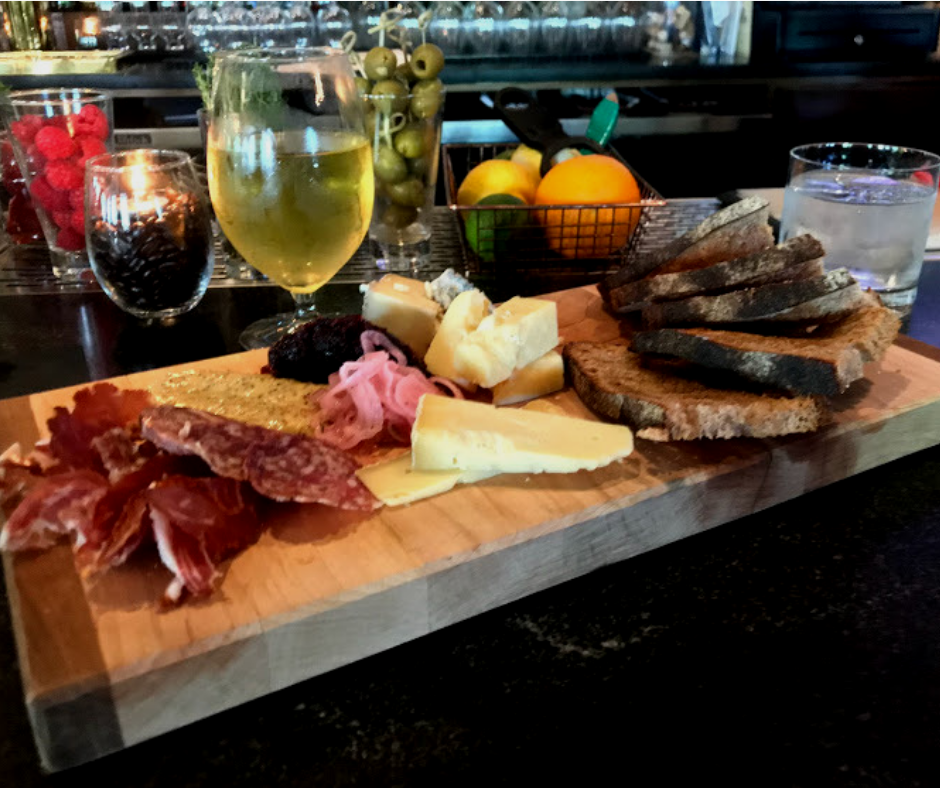 We suggest leaving the turkey leftovers to the little ones and plan on a lovely adult evening out at the Copper Grouse. It's sultry, welcoming, warm, and sumptuous. Focusing on regional dishes, the culinary team ensures each bite, nibble and sip is savory.
Some of our favorites include:
Roasted Brussel Sprouts : cherry wood bacon lardons and roasted shallots
The Locavore Plate : a selection of artisanal meats, fortuna's salami and goat cheeses, seasonal chutney, pickled red onions and stone ground mustard
Exotic Mushroom Risotto with micro green salad and herb oil.
3835 Main St., Manchester VT
We hope to make your vacation memorable and relaxing! Even if you are bringing together family over a traditional holiday. We hope these resources might help you out as well:
Things to do Year Round, Where to Get Food, or this post written by the New England travel blog, Pony Girl, that include our local area! What To Do In Vermont: Brattleboro to Manchester.